3rd July 2015
Dear Diary,
There is a park near my house. I used to see this old ragged looking woman coming every morning and sitting for about 2-3 hours in this particular bench below the banyan tree and kept a few peonies and 2 candies on this bench before leaving. This lady has been coming to this park for as long as I know.
This "candy-keeping" made me curious every time I saw her. So, today I walked up to her and asked, what's with the candy-peonies business. to that she said.
"Simon and I met here when we were 4, we had a fight on this very bench"
"I tore the button of his checkered shirt"
she chuckled
"I felt so sorry for him, I got him these candies and peonies, he loved them, we hugged and from then on we became best friends"
"we played together, studied together, and we fought a lot, and always patched up with these candies"
"We fell in love when we were 13, we held hands in this bench for the first time"
"I had my first kiss in this bench"
she said with a faraway look
Then she pointed in the far end of the bench that had a carved heart with S & D written on it, she said
'Look, we even carved our initials, and said the day this carving goes, is the day our love shall fade"
We grew up, Simon joined the army, he was going away on a deputation,
"we kissed our good bye here"
I waited so many seasons for him. And he came. He knew where to find me. I was here waiting for him with his favorite candies"
He proposed me on this bench with not roses but peonies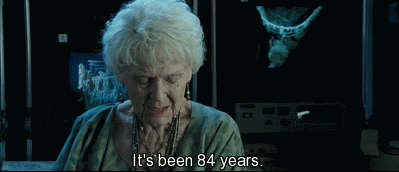 Pic Courtesy: Movie Titanic
"In our days, marriage was for keeps, we got married, on 10th December 1930. a beautiful dewy evening"
she smiled to herself
"Simon again left for his deputation on Christmas the same year"
"And I come here because I know this is where he will come to find me"
She gave me a chaste smile a walked away holding her stick.
I am standing here with tears in my eyes, looking at the candies and flowers.
This post is written for A Prompt Each day, Prompt 33
This post is written for Magpie Tales - Mag 283